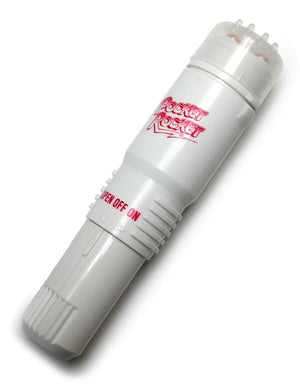 This special little vibrator, also known as a "pocket rocket," is imported from Japan.
It is powerful, 4" long, white, cylindrically shaped, and has 3 dome-shaped nodules at the top. Not designed for insertion, it is more suitable for stimulating one particular spot (generally the clitoris, to be precise.)
Many women find this little vibrator to be a real mind-blower, and after receiving numerous specific requests for it, we decided to add the vibrator to our inventory. The workmanship is very good, and the vibrator is relatively quiet, considering the strong vibe that it puts out.
Very portable, can fit into a pocket or purse.
Takes 1 AA Battery. Sold Separately.