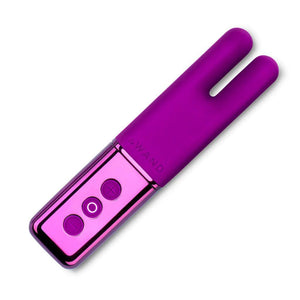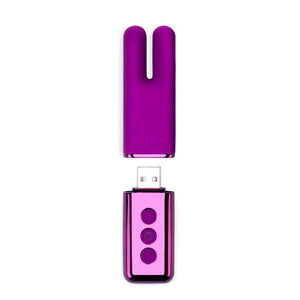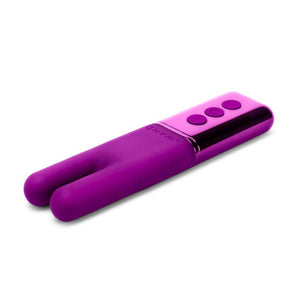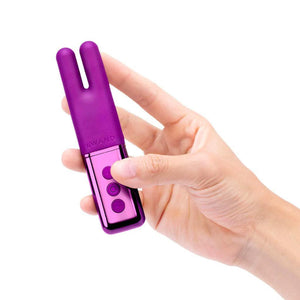 Show your clit some love! The Le Wand Deux Bullet Vibe features two silicone arms that wrap your clit or nipple in a snug embrace and focus powerful vibrations where they feel best. Start out with a gentle hum, and work your way up to a full-body orgasm. For such a small vibe, you'll be amazed at the big pleasures it offers.
Le Wand has built 15 vibration modes and 6 intensity levels into this compact little vibe, so you have a full menu to select from. Although built with the clit in mind, you'll find that its size and adaptability will inspire many other kinds of play: try running it around the nipples or along the underside of a cock for intensely satisfying play. With a touch of warming lube on the Deux's "ears," you can even use it for temperature play.
Product Details:
• Full Length: 4.5 in (11.4cm)
• Weight: 87 g (approx. 3oz)
• Color: Dark Cherry
• Lasts about 1 hour on a full charge
• 15 vibration modes with 6 intensity levels
• Direct USB charging; no cords necessary
• Materials: Body-safe metal and silicone
Shipping Notes:
This will be drop shipped directly from the manufacturer, separately from other items (please allow 3-5 days). Certain international orders are not available, please contact our Customer Service to inquire. Express shipping is not available for this item.