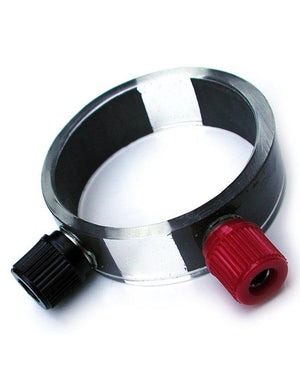 Each of these Cock Ring electrodes is made of clear acrylic with two metallic nickel conducting strips, covering almost half of the inside surface. They are designed to go around the cock and balls, and deliver intense sensations to that particularly sensitive area.
The cock ring can also be used around the balls, or higher up on the penis, depending on the diameter. (The small 1¼" ring would fit higher up on the shaft of the penis on most men.)
Ready to use with the Folsom power unit Dual Output PSG-MAX
Requires Pins-to-Bananas Adapter Plugs to work with the Rimba Electro Powerbox Stimulator Set or Snapper Adapters for Rimba Digital Power Box
The Folsom Electric Company offers a lifetime warranty on all their power boxes and accessories.