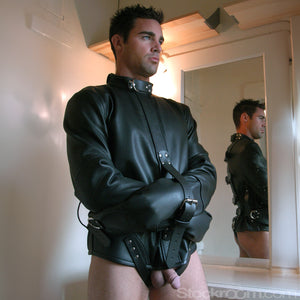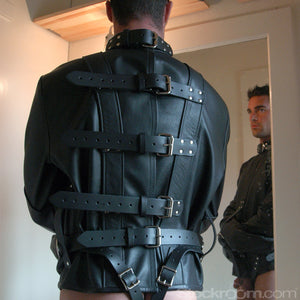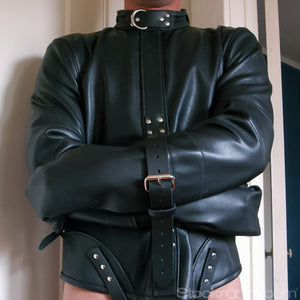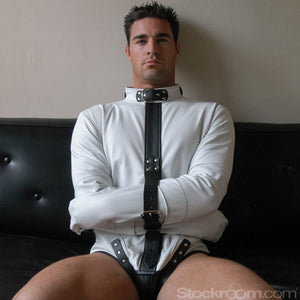 Our Premium Leather Straitjacket is made from the highest quality leather. It is soft, supple, and comfortable to wear, yet more than strong enough to hold up in serious bondage situations.
The leather belting is 1½" wide with reinforcement leather running underneath each belt and buckle for extra support and for less stretch on the actual jacket. We've also doubled the leather at the elbows to prevent stretching when the arms are in a folded position, adding to the strength and beauty of the design. In addition to the 1½" D-ring at the neck, we've added two more at the ends of the sleeves to allow for more restraint options.
This straitjacket is not only highly functional, it is very fashionable as well. It looks great on the body and is appropriate for making the scene either at home with a lover or out at a party or event. This is a design we are proud of!
Small fits a Chest 35" to 37". Waist 27" to 31".
Medium fits a Chest 38" to 40". Waist 32" to 34".
Large fits a Chest 42" to 44". Waist 35" to 38".
X-Large fits a Chest 45" to 48". Waist 39" to 42".


BLACK:
Small - J299
Medium - J300
Large - J301
X-Large - J302


WHITE:
Small - J299WS
Medium - J300WM
Large - J301WL
X-Large - J302WXL