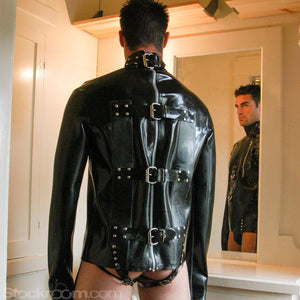 This is our favorite straitjacket!
Hand-tailored with 30-gauge latex, it is designed and fabricated exclusively for JT's Stockroom by our own expert latex department. The heavy #10 metal zipper runs up the back and has a zip-guard strip to prevent hair or skin from getting caught. The zipper is securely glued and riveted at the bottom for added integrity.
The adjustable front buckling arm restraint is attached and reinforced with two layers of canvas. Sleeves are sealed at the cuffs and riveted to thick straps that buckle behind the subject's back.
The 3-inch adjustable collar has a 1½ inch strap that buckles at the back of the neck. Two narrower adjustable straps go between the subject's legs and buckle separately just above the buttocks; they are attached with four rivets each and reinforced with canvas. All the edges are hemmed for added strength.
Extra features of the deluxe version: This model has the following options that our regular straitjacket does not have: three back straps, tit zippers, a removable arm strap on the chest (the 2 riveted D-Rings affording many possibilities), and removable thigh straps for securing arms at the sides.
Size Details:
Small: Chest 35" to 37" - Waist 27" to 31"
Medium: Chest 38" to 40" - Waist 32" to 34"
Large: Chest 42" to 44" - Waist 35" to 38"
X-Large: Chest 45" to 48" - Waist 39" to 42"
All Syren items are made to order, just for you, and will take 4-6 weeks turnaround time by our Los Angeles production team.
NOTE: The default color for this item is Black. For this item in a different color or size, call us at 1-800-755-TOYS or 1-213-484-3882 or email info@stockroom.com to place your custom order. Please note that a custom surcharge fee will apply.