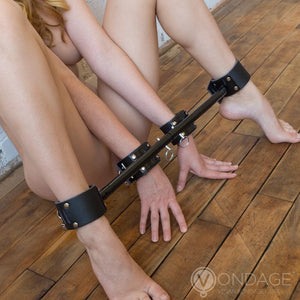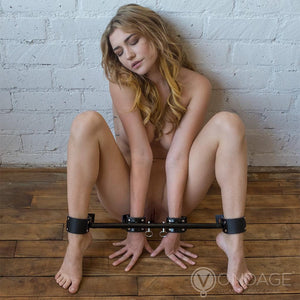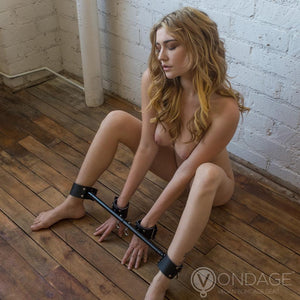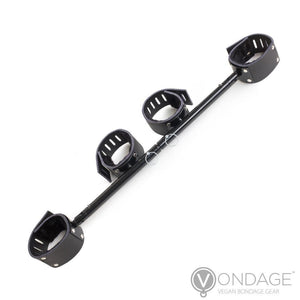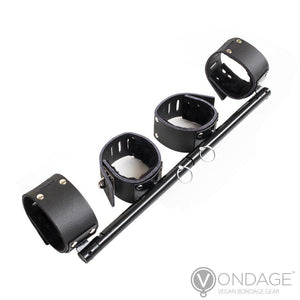 Our best-selling original Adjustable Stocks are now available in our Vondage vegan leather collection! These adjustable stocks are made of soft faux leather cuffs, synthetic fur for comfort, and permanently attached to a black metal bar that adjusts from 18 to 26 inches.
The outside cuffs are swivel-mounted, permitting slight movement and measure from 6"-10". Wrists or ankles can be held inside or outside interchangeably.
Disassembles into three pieces for easy storage and transport. Requires locks or snap hooks, sold separately, in order to remain fastened.
Ideal for...Bondage Play, Vegan Kinksters, BDSM, slaves, submissives.
Product Details:
• Adjusts from 18"-26" (46-66cm)
• Cuffs fit ankles and wrists measuring 5"-10" (12.7-25.4cm)
• Breaks down into 3 parts for easy travel
• Locks sold separately
SKU: J741
Safety, Care & Usage: With a damp washcloth and hand soap, rub-down the vegan microfiber material and dry completely. Do not expose material to excessive heat.
Note: This item is produced in-house by our leather team in Los Angeles. In-house items display as "In Stock," and in a majority of cases we do have current stock on hand, but if not, the items will be made to order for you, and our customer service team will notify you promptly regarding any anticipated wait (usually just a few days). You will have the option to cancel if you do not wish to wait. If other items in your order are available immediately, the order may be sent in multiple parts.