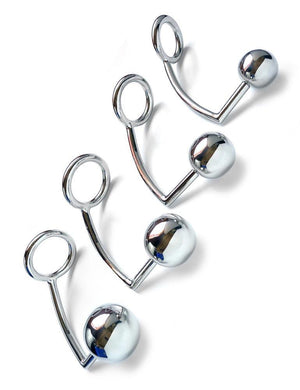 The Trailer Hitch Echo is a unique stainless steel cock ring with a spherical anal plug that includes an internal ball (Ben Wa balls style) for an added sense of movement and intense stimulation. Vaginal intercourse and anal sex (giving), as well as ejaculation, are completely possible while wearing this device.
This toy has a working cock ring to grip, surround, and trap the member with a curved perineum bar connecting the ring to the ball-stem that gives the male erogenous zone a subtle massage. This is a very exciting piece of equipment that's great for couples, or for solo wearing.
The Trailer Hitch Echo is constructed from top quality, heavy, medical-grade, stainless steel that will not tarnish or stain because the metal does not oxidize. You can use this sex toy with any lubricant. Stainless Steel is very easy to clean, non-allergenic, and incorporates no other alloys.
Product Details:
• Small - 40mm ball/40mm ring
• Medium 45mm ball/45mm ring
• Large 50mm ball/ 50mm ring
• X-Large 55mm ball/50mm ring
SKU: E215S (Small)
SKU: E215M (Medium)
SKU: E215L (Large)
SKU: E215XL (XLarge)
Safety, Care, and Usage:
The Trailer Hitch Echo is very easy to clean using just antibacterial soap and warm water. This toy must be cleaned before and after every use. Not intended for vaginal use. Please always play safely.