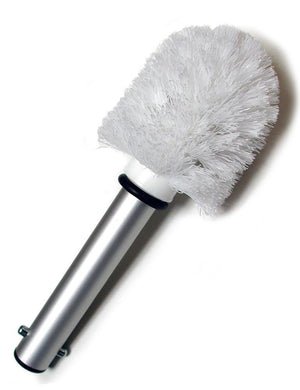 Keep your commode sparkling clean with the help of this Toilet Brush Attachment for Scott Paul's Humiliator Gag. Simply attach the brush to the gag, and get that toilet brushed to a glistening finish. The traditional white plastic bristled toilet brush is attached to a sturdy, lightweight metal rod. The rod attaches to the metal tube in the front of the gag.
The gag and all other attachments are sold separately.
Scott Paul gear is très kinky, très chic, and built to last a lifetime. Made from aluminum tubing, stainless steel and other industrial components, this gear is well known for artistic styling, quality construction, and unique sensations to deliver a memorable experience. Every piece is designed and carefully hand assembled in Seattle, Washington.
*We apologize, but this item is not available for promotional discounts at this time.