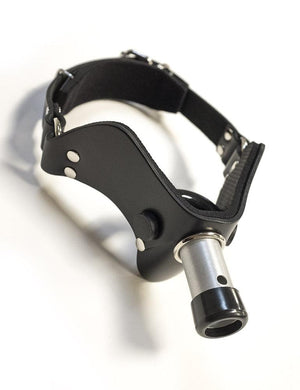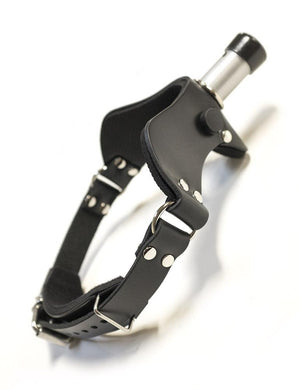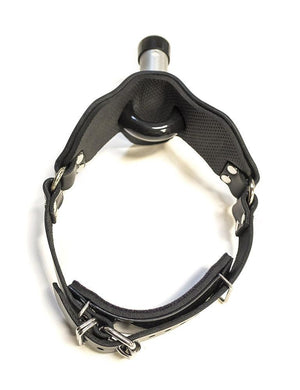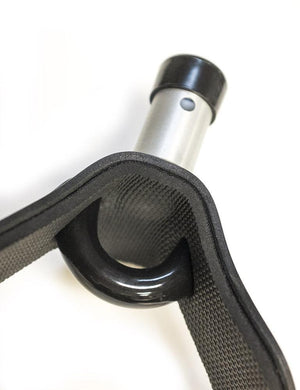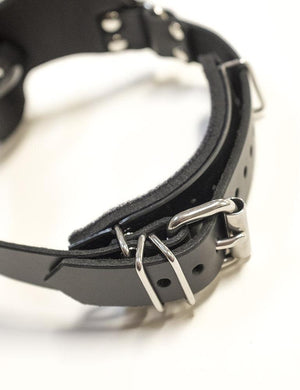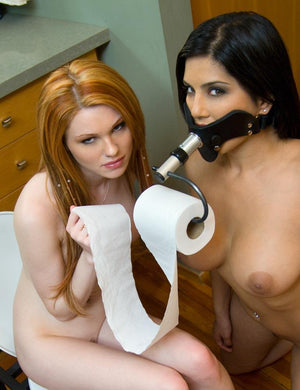 This is it! Scott Paul Designs' Humiliator Gag, also known as "How May I Help You?". This innovative and well-made gag can hold a variety of attachments meant to please and serve a master. Imagine, with the use of the gag and attachments, the submissive being able to dust the furniture with the feather duster, sweep the floors, catch cigar ashes with the ashtray, hold a tray of refreshments, scrub leather boots or even stock and scrub the commode! And of course, there is a dildo attachment that is aimed to please.
Similar to the Half-Moon Bit Gag, this is a stylish and comfortable gag that may be worn for extended periods of time. The half moon shaped mouth bit provides a firm and bitable surface. The inside of the face gag is lined with wet suit grade neoprene. The neoprene lining is soft and easy to clean. The strong leather neck strap features a felt lined pad that protects the skin from the buckle for more comfort during extended wear. The accessory receiver tube is made of anodized aluminum.
Scott Paul gear is très kinky, très chic, and built to last a lifetime. Made from aluminum tubing, stainless steel and other industrial components, this gear is well known for artistic styling, quality construction, and unique sensations to deliver a memorable experience. Every piece is designed and carefully hand assembled in Seattle, Washington.
*We apologize, but this item is not available for promotional discounts at this time.