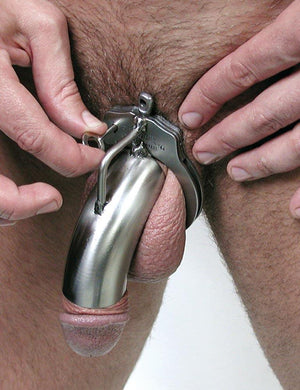 This mid-range male chastity device is made from a single, stainless steel handcuff, which is permanently welded to a steel tube. The cuff locks around the cock and balls, and the penis is enclosed by the tube, and protrudes out and downward at the end.
The Houdini is not completely confining, comes in more than one size, is very adjustable, and presents few hygienic challenges.
The inside diameter of the Small-Medium tube is 1¼", and the Medium-Large measures 1 3/8". Lengths are 3" and 3¼", respectively.
The tube on the Small-Medium Houdini has a more severe downward slope than the Medium-Large version, making it more confining, but also more subtle under clothing. The cuff is double-locking for security and safety.
Wear it with our specially made Locking Leather Houdini Harness. Sold separately.