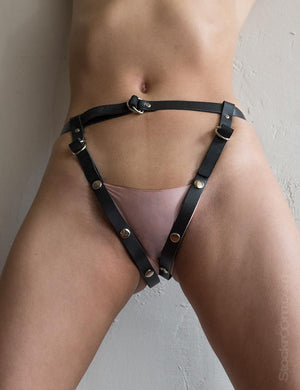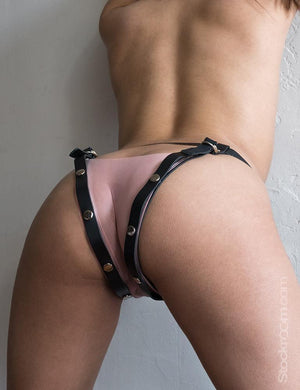 This is a smart and innovative safer-sex toy from The Stockroom, designed to hold a dental dam in place on a woman or a man, in front or in back, or both. (If you prefer using Saran wrap, this harness will work well with that too.)
One strap goes around the waist, while two additional straps go between the legs, one on either side of the genital/anal area, encircling each thigh. Snaps hold a dam in place over the area(s) you want to cover. When used on a man, the harness is recommended primarily for covering the anal area. When used on a woman to cover both the vaginal and anal areas, 2 dams are recommended.
Waist Max: 34" Thigh Max: 26"
Note: This item is produced in-house by our leather team in Los Angeles. In-house items display as "In Stock," and in a majority of cases we do have current stock on hand, but if not, the items will be made to order for you, and our customer service team will notify you promptly regarding any anticipated wait (usually just a few days). You will have the option to cancel if you do not wish to wait. If other items in your order are available immediately, the order may be sent in multiple parts.