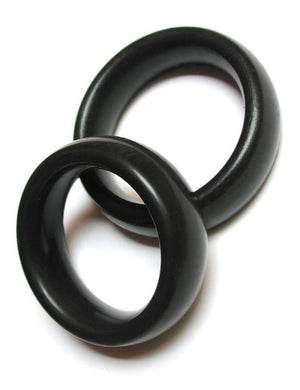 This Silicone Cock Ring allows for a firm yet semi-flexible fit, making it a good starter choice or a more comfortable alternative for experienced users. One of the properties we celebrate about silicone toys is how nicely they warm to body temperature—always a plus. As with all items made by the trend-setting Tantus, this cock ring is "meticulously manufactured by hand in the USA" using the finest materials available.
The Silicone Cock Ring is made from 100% Ultra-Premium Platinum Silicone. Hypoallergenic, phthalate-free, perfectly odorless, this toy is an ideal choice for those with sensitive skin or for people who want a more environmentally-friendly play option. One of the most convenient aspects of the Silicone Cock Ring is that it is also boilable, bleachable and dishwasher safe, so you can just toss this bad boy in the top rack when you're done.
Product Details:
• Made from 100% Ultra-Premium Platinum Silicone
• Great for sensitive skin: Hypoallergenic and phthalate-free
• Easy to clean by hand, boiling, or in dishwasher.

SKU: C938 (Small)
SKU: C939 (Large)