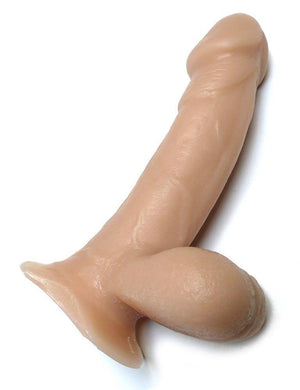 This silicone strap-on dildo is a dream come true. It sports realistic 3D balls that are designed to hang in front of the harness.
No more bruises from O-rings and snaps! Made with VixSkin™, a technological advancement that combines a solid silicone core with a less dense, more pliable silicone exterior, this toy is as safe and easy to care for as a typical silicone toy but with an exciting new feel.
Product Details:
• Insertable Length: 5in (12.7cm)
• Diameter: 1.5in (3.8cm)
• Circumference: 4.7in (11.93cm)
• Ball Length: 2.75in (7cm)
• Ball Width: 1.75in (4.45cm)
Safety, Care & Usage:
This silicone dildo is non-porous and can be cleaned easily with soap and water. You can also sanitize it in boiling water for 3 minutes.