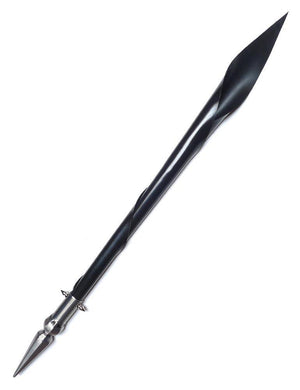 One glance tells you this whip is the tool of an artist. This fangs of this serpent come from the extra elastic snap and the additional 'grab' in its rolled high-grade silicone whip. The heavier silicone also gives more heft and shape to this whip than its leather counterparts, giving you more control over the placement and severity of your strikes.
The rolled whip is bolted securely into the handle and adorned with twin spikes, while the solid steel handle is faceted with a bulb and point for a truly menacing look of medieval authority. The steel is finished with a clear powder coat for durability, bringing out its natural luster and grain.
With a deeply satisfying weight and grip that truly sets it apart, this silicone serpent whip will make your instructions all the more memorable, and will leave you reluctant to put it down.
If you've never experimented with silicone floggers, we advise you start slow, as a full-throated lick of this beast truly does pack a welt-raising wallop!
Product Details:
• Handle available in Steel or Red
• Whip length: 24 in (61 cm)
• Handle length: 6.75 in (17.1 cm)
• Handle width: 1 in (2.5 cm)
• Handle diameter at widest: 1.2 in (3 cm)