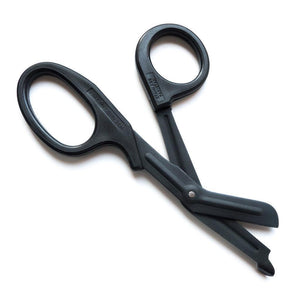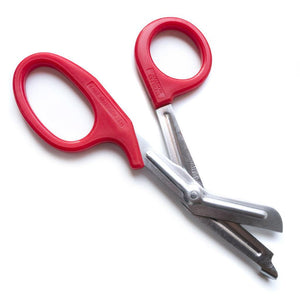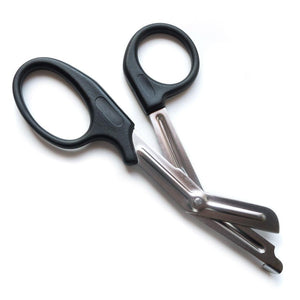 Safety first in business and pleasure...especially in pleasure! A must-have for BDSM, bondage, restraint, and any sort of play that involves a tight fit, these tough little scissors will keep you out of trouble.
The roomy polypropylene grips allow a firm grasp when cutting with the sharp stainless steel blades. How sharp? Sharp enough to cut through a penny! Believe it, we tried. Rope, tape, blindfolds, clothing, bandages, and more can be effortlessly sliced through with the awesome cutting power of these scissors, making them useful before, during, and after play.
A rounded leading edge with a flat safety guide keeps comfort in mind for cuts made near the skin, which is especially welcome for when you need to use this item in a hurry. It's always a good idea to be prepared and have these scissors handy; who knows, they just might help get you out of (or, if you're lucky, into) a sticky situation!
Product Details:
• Product length: 6.5in/16.5cm
• Product width: 4in/10cm
• Stainless steel blades with polypropylene grips
• Available in Black/Steel, Red/Steel, and Black/Black
• Autoclave-safe up to 290F/143C
• Clean with toy cleaner or soap and water and then dry
SKU: E572 (Black Handle/Black Blade)
SKU: E573 (Black Handle/Steel Blade)
SKU: E574 (Red Handle/Steel Blade)