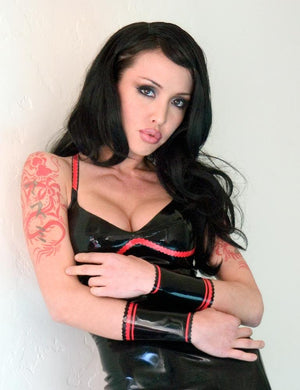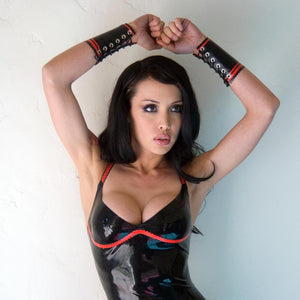 This premium latex design is an intriguing fetish accessory. The black latex is 30 gauge and the red trim is 14 gauge latex.
This is an attractive pair of gauntlets with lots of detail, quality construction, and great style. Each gauntlet has 12 nickel-plated eyelets with lacing. Five inches long, and adjustable, so one size fits all.
Sold in pairs.
All Syren items are made to order, just for you, and will take 4-6 weeks turnaround time by our Los Angeles production team.
NOTE: The default color for this item is Black with Red Trim. For this item in a different color or size, call us at 1-800-755-TOYS or 1-213-484-3882 or email info@stockroom.com to place your custom order. Please note that a custom surcharge fee will apply.