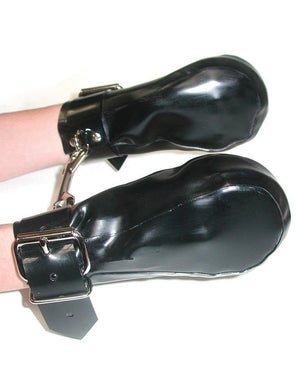 For containing busy hands and fingers. Made with 30-gauge latex, about as thick as it gets, each mitt has a very secure D-ring, and a 1½" wide rubber wrist strap with chrome-plated steel buckle.
Product Details:
• Small: Wrist strap 6 - 7.5in (15.2 - 19cm), Mitt length 7.5in (19cm), Fist width 9in (22.8cm)
• Medium: Wrist strap 6.5 - 8.5in (16.5 - 21.6cm), Mitt length 8in (20.3cm), Fist width 11in (27.9cm)
• Large: Wrist strap 7 - 10.5in (17.8 - 26.7cm), Mitt length 8.5in (21.6cm), Fist width 12.25in (31.1cm)
Important note:
This item is not recommended for being the sole weight-bearer during suspension.
All Syren items are made to order, just for you, and will take 4-6 weeks turnaround time by our Los Angeles production team.
NOTE: The default color for this item is Black. For this item in a different color or size, call us at 1-800-755-TOYS or 1-213-484-3882 or email info@stockroom.com to place your custom order. Please note that a custom surcharge fee will apply.