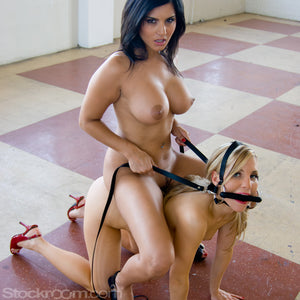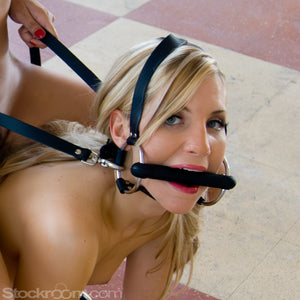 The Rubber Bit Trainer Gag is an adjustable, locking bit gag in a head-harness style. This item uses a stylish rubber horse-bit for the mouthpiece, much like The Rubber Bit Gag, but this trainer version incorporates a head harness as well.
The black leather straps go over and around the head and neck, as well as under the chin. This gag features two lockable buckles for added security.
Reins (and pony) are not included, but two plain leather leashes, attached to the large O-rings on either side of the head, make fabulous pony play reins, as depicted.
Product Details:
• Ideal for: Pony Play Fetish, Pony Training, Animal Role-play, Horse Role-play. Pet Play.
• Horizontal strap circumference: 18"-24"
• Top of the head strap length 9"-16"
SKU: J066
Note: This item is produced in-house by our leather team in Los Angeles. In-house items display as "In Stock," and in a majority of cases we do have current stock on hand, but if not, the items will be made to order for you, and our customer service team will notify you promptly regarding any anticipated wait (usually just a few days). You will have the option to cancel if you do not wish to wait. If other items in your order are available immediately, the order may be sent in multiple parts.