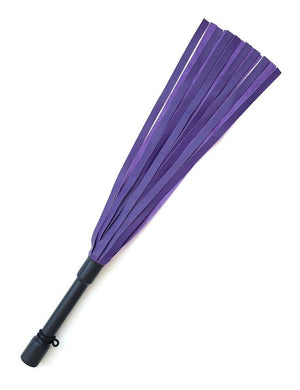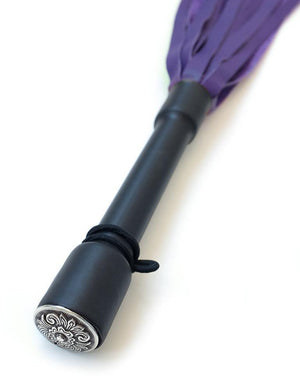 This gorgeous flogger has 24 falls made of deliciously soft purple Italian upholster leather in a single piece construction- ensuring the life of every single piece. The Purple Devil's handle is made of comfortable polypropylene—a thermoplastic polymer— for a smooth, rubbery surface encasing the entire length of the handle. The signature silver "Dragon Jewelry" piece lies at the very base for a beautiful final touch.
Dragontailz floggers are innovative and carefully created, made to last with exceptional quality and even comes with a limited lifetime warranty by the manufacturer. Please note that there may be slight color variance from the flogger or tail whip shown here.
Ideal for…flogging, impact play, BDSM, sensation play.
Product Details:
• Handmade from Italian upholstery leather
• Falls Length: 17"
• Handle Length: 8"
• 24 Red Leather Falls
• Fall Width: 0.5"
• Black polypropylene (thermoplastic polymer) handle
• Signature metal "Dragon Jewelry" handle base
SKU: G606