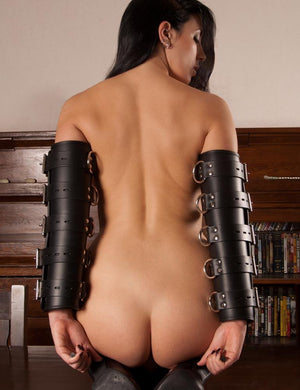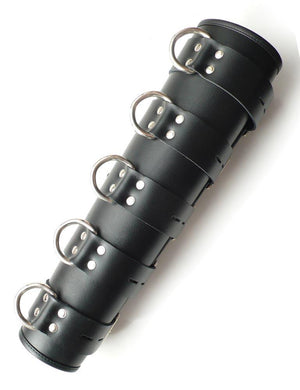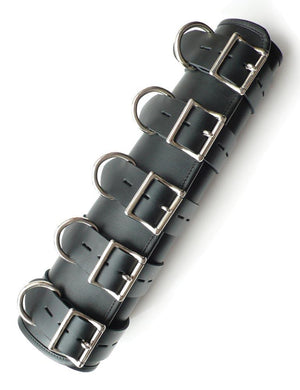 Similar to but more versatile than our armbinder, these leather arm splints are handmade in our workshop with the same craft and care with which we construct all our bondage gear. The five locking buckles and ten nickel-plated D-rings ensure that you will be able to position the bound limbs as you see fit. These restraints are designed to keep the arms straight and placed exactly where you want them, making them perfect for restricting arm movement while leaving the hands free to wriggle helplessly.
Designed to fit most sizes, nobody is left out of the party!
Product Details:
• Wrist: 5in-10in (12.7cm-25.4cm)
• Mid arm/Elbow: 7in-12in (17.8cm-30.5cm)
• Bicep: 9in-14in (22.9cm-35.6cm)
• Length from wrist to bicep: 16in (40.6cm)
• Premium arm splints are sold as a pair.
• Features a 1.5" locking center bar, roller buckle
• Accommodates padlocks such as the Baby Nickel Plated Padlock or the Master Lock Padlock
Note: This item is produced in-house by our leather team in Los Angeles. In-house items display as "In Stock," and in a majority of cases we do have current stock on hand, but if not, the items will be made to order for you, and our customer service team will notify you promptly regarding any anticipated wait (usually just a few days). You will have the option to cancel if you don't wish to wait. If other items in your order are available immediately, the order may be sent in multiple parts.