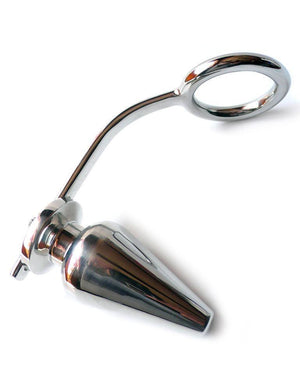 Double your pleasure with this uniquely designed butt plug and cock ring combination! The stainless steel cock ring has a long arm that curves around across the perineum and connects the cockring to a cone-shaped buttplug at the end.

Like other trailer hitch –style cock ring and anal toy combos, Pike's Peak lets you wear a butt plug longer and more securely, because the cock ring and connecting arm keep it in place even when you move or walk around. Unlike other sex toys with similar designs, though, this particular model makes anal play more comfortable, because its smooth tapered end is easier and gentler to insert than the spherical ends found on most trailer hitch toys. Best of all, Pike's Peak is adjustable, and features three holes at the end of the connecting arm so the butt plug can be unscrewed and remounted in the perfect position for you.

Made of medical grade stainless steel.

Product Details:

  • Total Length: 8in (20.3cm)

  • Cock Ring is 1.75in (4.45cm) wide across the inside

Butt Plug measurements:

  • Height (Base to tip) 4in (10.2cm)

  • Insertable length: 3in (7.6cm)

  • Buttplug thickness (at widest point) 1.8 in (4.6cm)

Safety, Care & Usage

Disinfect with warm water and antibacterial soap before and after each use.