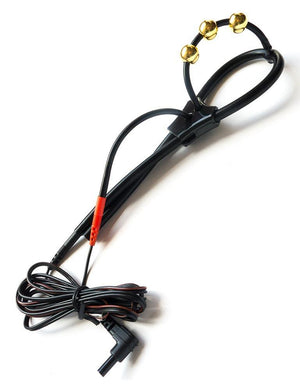 Mystim's Pearly Pete is an ingenious, dick-hugging e-stim device that fits snugly around the corona of the penis and over its tip. With the harness securely placed, it's time to turn up the pleasure, letting the juice arc across the most sensitive parts of the cock head. Along this route are three easily movable, 23k gold-plated balls that focus the electrical current to those specific places on the skin where the user desires the greatest intensity.
Made of black, medical-grade silicone that's easy to clean, this electrifying tool fits any size cock with its small user-adjustable straps. Whether you crave a jolt of pulsating power or just a gentle tingling sensation, you've got voltage on tap!
The operation of Pearly Pete requires an electrical nerve stimulator source such as the Mystim Tension Lover or Pure Vibes unit. As with the Plunging Pete, use of a conductive water-based lubricant is recommended at all contact points; samples of Mystim's Bonnie & Glide and The Goldfather lube are included inside the product's black metal case.
Product Details:
• Cable Length: 42in/107cm
• Ring Diameter: Fully adjustable
Safety, Care, and Usage:
Carefully clean after use. Be sure to read all instructions diligently before using.
Mystim accessories can only be used with the Mystim power units unless otherwise specified.