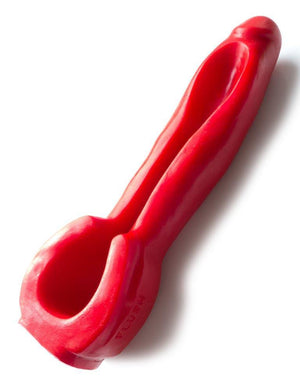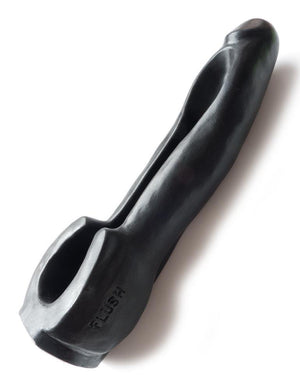 Have you been searching for the perfect accessory to liven up your piss play and water sports activities? The Flush Trough Dildo by Oxballs is a toilet, a piss trough and smooth dildo all in one. This large cock shaped silicone dildo has a long drainage ditch carved out in the center, connecting to a toilet-shaped base. The long trough makes it easy to carry any kind of liquids down its drain to the head, making this cock your own personal urinal.
The Pure Platinum Cure Silicone makes for a smooth, warm dildo that can be cleaned, sterilized and stands up to almost anything you use it for. This raunchy toy is sure to put the sparkle in the eye of your human toilet.
Product Details:
• Available in Red or Black
• Total Length: 11in/27.9cm
• Circumference: 9in/22.9cm
• Usable Length: 8in/20.3cm
• Smallest Usable Circumference: 6in/15.2cm
• Largest Usable Circumference: 7in/17.8cm
• Weight: 22oz
• Made in USA
Safety, Care, and Usage:
Pure Platinum Cure Silicone is phthalate-free and compatible with all lube types (water-based, silicone based, water/silicone hybrid, and oil-based). Clean using detergent soap and hot water. Can also be cleaned in the dishwasher.