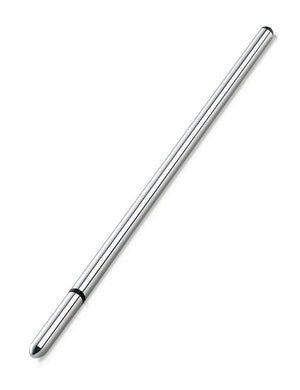 For stimulation like nothing you have ever felt, try the Mystim Slim Finn Urethral Sound. At 6mm, it is slimmer than The Mystim Thin Finn Urethral Sound and better for beginners.
The Slim Finn is something to write home about…tell them about the intense, unforgettable experience you'll enjoy when this hand-polished medical aluminum is inserted into your urethra.
Product Details:
• Length is 5.9in (15cm)
• Diameter is 0.23in (0.6cm)
• Weight 0.52oz
• Made of hand polished medical aluminum
• 12 months manufacturers warranty
Safety, Care, and Usage:
Please clean thoroughly before and after use with warm water and soap. Always be well educated when playing with urethral sounds to avoid injury. Never force a sound into the urethra, allow it to gently guide itself in naturally.
Mystim accessories can only be used with the Mystim power units unless otherwise specified.