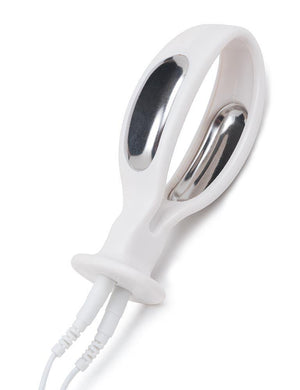 The Mystim Julian Vaginal Probe caters to those with a medical play fetish. The probe is very lightweight and ergonomically designed to fit the contours of a woman comfortably. Once inserted the Julian Vaginal Probe works with the Tension Lover Kit to create an intense electric stimulation. The pulsing and tingling heighten sexual pleasure inviting the always needed orgasm.
Product Details:
• Length is 3.1in(8cm)
• Diameter is 1.4in(3.5cm)
• Made of white plastic with polished surgical grade stainless steel
• 12 months manufacturers warranty
Safety, Care, and Usage:
Always clean your Mystim Julian Vaginal Probe before and after use with warm water and soap. Pat dry.
Mystim accessories can only be used with the Mystim power units unless otherwise specified.