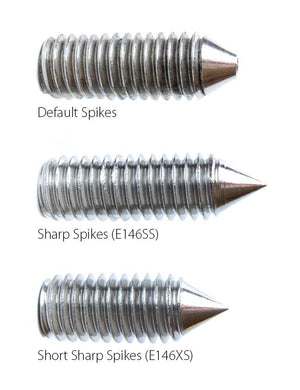 These are Short Sharp Spikes for use in Mike's Spikes.
28 spikes come in a pack.
Mike's Spikes can be purchased separately; read about the Mike's Spikes device below:
This unique piece can be used either as a CBT device – à la Kali's Teeth – or a ball stretcher.
The interior of the locking stainless steel cylinder is covered with adjustable sharp or blunt-tipped allen screws, perfect for going medieval on your cock!
Unlike other spiked chastity devices, one of the unique features of Mike's Spikes is that the spikes are fully removable and adjustable, which means you have full control over how many spikes to include or the distance the screws are inserted to adjust for your girth. The screws can also be loosened and the device worn as a spiked ball stretcher. The choice is yours!
Mike's Spikes also makes an effective male chastity device, securing the shaft in its steel grip, making escape impossible. You can lock the device with a Small Brass Master Lock to ensure obedience, or just to tease to your heart's content!
Safety, Care, and Usage:
Clean with mild antibacterial soap and warm water after each use. Allow spikes and device to air dry. The spikes can be unscrewed by hand when the device is not attached.