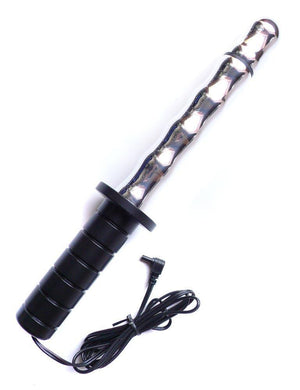 The Mystim Mighty Merlin Dagger Dildo is made from medical-grade aluminum and can be used with the Tension Lover Kit. This slim dildo is very easy to use. The handle allows the user to navigate the Mighty Merlin without the electrical current contacting the hand.
Perfect for couples, the Mighty Merlin Dagger can be played with anally or vaginally. Heat up beforehand or place the dildo in the refrigerator for temperature variation. The stimulating effects created with the Tension Lover are pleasurable and unforgettable!
Product Details:
• Length is 9.8in(25cm)
• Diameter is 1.2in(3cm)
• Weight 0.529lbs(8.46oz)
• Made of Hand polished medical aluminum
• 12 months manufacturers warranty
Safety, Care, and Usage:
Always clean your Mystim's Mighty Merlin Dagger Dildo before and after use with warm water and soap. Pat dry.
Mystim accessories can only be used with the Mystim power units unless otherwise specified.