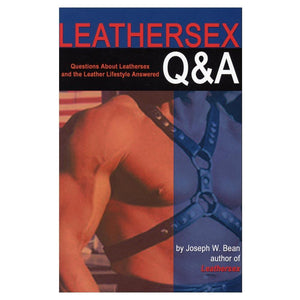 Here, the author of Leathersex becomes the Ann Landers of Leather, answering scores of actual letters sent to him over several years of his career as a lecturer, columnist, and editor of a gay men's leather magazine. His answers and insights are intended for anyone trying to negotiate the sometimes-tricky waters of living a real-world S/M lifestyle.
In order to contribute to a more interesting and fulfilling erotic life, this book was written to give guidance on one popular style of erotic play which the author calls "leathersex" - sexuality that may include S/M, bondage, dominance, submission, fantasy, role playing, sensual physical stimulation, and fetish, to name just a few. If you are simply curious about leathersex, or if you already enjoy its pleasures but want to learn more, this book is for you!
A Daedalus Publishing title.
Joseph W. Bean is among the most active writers, editors, and lecturers in the field of radical sex. He is a regular university guest lecturer, has appeared on national television, and maintains a schedule averaging 65 educational events each year. His leathersex column, written for the San Francisco Sentinal, was a success in national syndication and much of this book evolved from that column.
He is also the author of Leathersex.