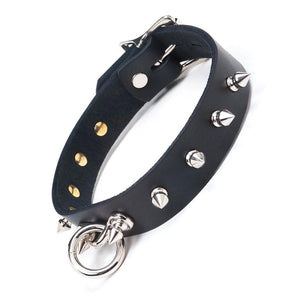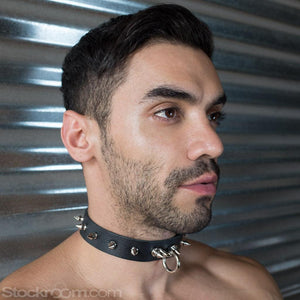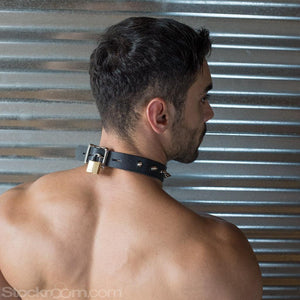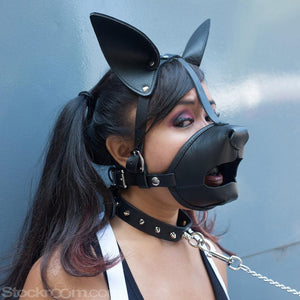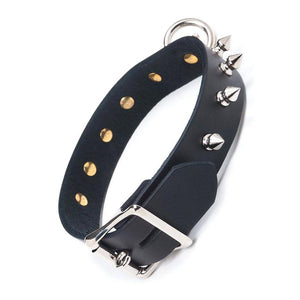 Looking for a spiked collar that's more serious than pyramid studs but without the piercing dangers of a wolf collar? Our very own Leather Collar with Spikes features a row of spiked studs for an updated style that will enhance the mood of your play as perfectly as completing your outfit for a night at the club. An O-ring in the front allows for convenient lead attachments (reminding you not to let your tough looks go to your head), while a lockable buckle adds an additional reminder by giving Master the option to lock it in place.
This collar broadcasts a bold statement, and its heavy-duty, nickel-plated hardware lives up to its words. Handcrafted in Latigo leather with superior quality in our legendary Los Angeles workshop.
Product Details:
• Made of Latigo Leather
• Width: 1.0in/2.54cm
• Nickel-plated hardware
• Lockable buckle
• Available in 2 sizes: S/M and M/L
• Features a 1" locking center bar, roller buckle
• Accommodates padlocks such as the Baby Nickel Plated Padlock or the Master Lock Padlock
S/M Measurements:
Fits necks sized 11.25in/28.5cm to 13.5in/34.2cm
M/L Measurements:
Fits necks sized 13.75in/34.9cm to 16.25in/41.2cm
Safety, Care, and Usage: Leather toys can be disinfected with a light topical application of 70% isopropyl alcohol, but cannot be sterilized. Use a leather dressing product to keep your leather gear looking its best.
Note: This item is produced in-house by our leather team in Los Angeles. In-house items display as "In Stock," and in a majority of cases we do have current stock on hand, but if not, the items will be made to order for you, and our customer service team will notify you promptly regarding any anticipated wait (usually just a few days). You will have the option to cancel if you do not wish to wait. If other items in your order are available immediately, the order may be sent in multiple parts.