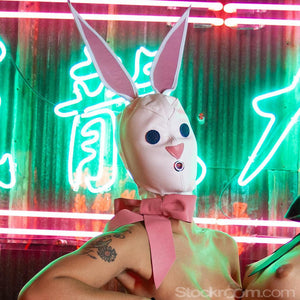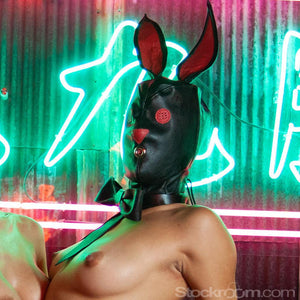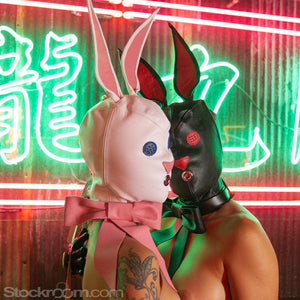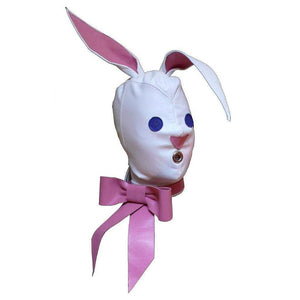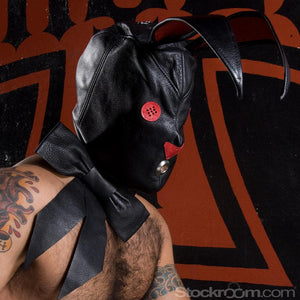 The Leather Bunny Hood is a top-quality leather bondage hood, exclusive to Stockroom.com. It is available in white or black leather. This animal face hood is handcrafted from premium garment leather by highly skilled seamstresses. Careful attention to shaping detail makes for an excellent fit.
The Bunny Hood is great for sensory deprivation play. The mouth-hole is a small nickel-plated eyelet that measures ½" in diameter. The eyes are circular leather patches that each have a 1.25" diameter and nine small holes to see through, making visibility quite minimal.
An added benefit to the Bunny Hood is the buckling Latigo leather collar strap. The collar strap has a lockable buckle and an attachment point for a small lock (not included) so that the wearer can't remove the hood.
The collar strap adds to the secure feel and look of the Bunny Hood, and provides a place to attach a leash or chains. The collar is decorated and disguised with a large leather bow.
The Leather Bunny Hood threads up the back using a durable leather lace strung through nine pairs of silver cinch rings. The ears are 10" long and 2.25" inches wide.
Epitomizing "cute and sexy", the Bunny Hood endows the wearer with mysterious, disarming allure.
You won't find this bondage hood anywhere other than Stockroom. The Leather Bunny Hood is the ultimate animal face bondage hood. It is unusual and entertaining.
Colors:
• Black hood comes with a black leather bow and red leather eyes, nose, and inner ears.
• White hood comes with blue leather eyes and pink leather nose, inner ears, and bow.
Sizing:
Measure the widest part around your head right above your ears and eyebrows.
Small/Medium:
• 21" to 24" Head
• 12" to 15.5" Collar
Medium/Large:
• 24" to 28" Head
• 15" to 18.5" Collar
SKU: J440 (White S/M)
SKU: J441 (White M/L)
SKU: J442 (Black S/M)
SKU: J443 (Black M/L)

Note: This item is produced in-house by our leather team in Los Angeles. In-house items display as "In Stock," and in a majority of cases we do have current stock on hand, but if not, the items will be made to order for you, and our customer service team will notify you promptly regarding any anticipated wait (usually just a few days). You will have the option to cancel if you do not wish to wait. If other items in your order are available immediately, the order may be sent in multiple parts.