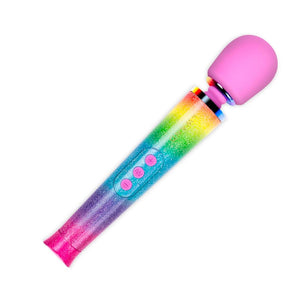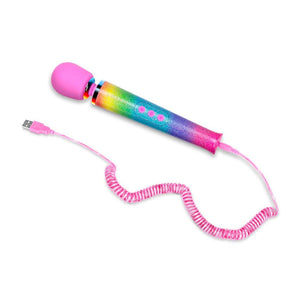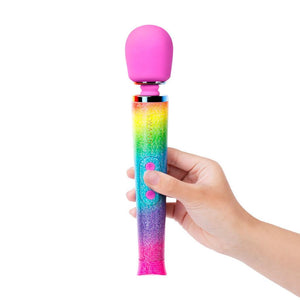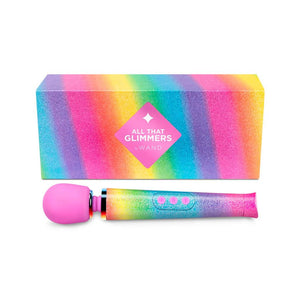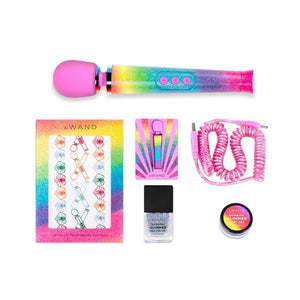 Somewhere over the rainbow — is a never-ending cascade of orgasmic pleasure. Well, maybe not never, but at least not until you put this limited edition of Le Wand Petite back in the drawer.
Built with the same solid construction you've come to expect from Le Wand, this brings all your fantasies of unicorns and rainbows alive with a sparkly, multi-colored surface.
Of course, it's not all sparkles; when you switch it on, the Rainbow Ombre is all about business, with 10 levels of vibrations and 6 patterns that allow you to explore the entire spectrum of sexual pleasure in a few minutes. To top it off, the vibrator doesn't come alone; it's accompanied by a matching travel case, enamel pin, nail polish, body gel, and temporary tattoos that will make you glitter inside and out.
Pull this out for the slumber party that you always wanted — but that your parents certainly wouldn't let you have.
Some of the Le Wand Petite features include:
10 Vibration Speeds — Need a gentle vibration to help you reach that edge, or perhaps something more powerful than other wands on the market? Le Wand's range of intensities makes it an extremely versatile vibrator for all your needs.
6 Vibration Patterns — The days of boring pleasure sensations are over; Le Wand's 6 vibration patterns had Health.com praising it as one of the best sex toys for solo masturbation.
Body-Safe Silicone — All Le Wand vibrators are made from premium, silky-smooth silicone. They're 100% skin-friendly, non-porous, and completely free of latex and phthalates.
Flexible Head — The soft, malleable head of the Le Wand vibrator is designed to rotate 360 degrees -- this allows the vibrations to resonate through the user's body without causing any friction or overstimulation.
Splashproof & Easy to Clean — All Le Wand vibrators are "splashproof", meaning you can wash your it under running water but not completely submerge them, say like in a bathtub or a jacuzzi. Travel-Friendly — All Le Wand vibrators feature a travel-lock for safe and convenient excursions. We've even included a discreet travel case if you decide to take the vibe on your next adventure.
Free Texture Cover — Every purchase includes a multi-use texture cover to essentially enhance and protect the toy. The Le Wand vibrator is also compatible with our unique silicone attachments for internal stimulation.
1-Year Warranty & Lifetime Guarantee — The Le Wand warranty covers all defects in workmanship or materials under normal usage and care for a period of 12 months. Contact us to learn more about their lifetime guarantee.
Product Details:
• Materials: Head, Neck & Buttons: 100% Body-Safe Silicone
• Colors: Available in Rainbow Ombre
• Cordless and USB Rechargeable with included metallic pink charging cord
• Includes Sparkly Travel Case, Rainbow Glimmer Nail Polish, Rainbow Glimmer Body Gel, and Metallic Temporary Tattoos
• Size: 254 x 47 mm / 10 x 1.85 in
• Diameter: 43.5 mm / 1.71 in
• Neck Diameter: 18.8 mm / 0.74 in
• Circumference: 153 mm / 6.02 in
• Weight: 0.47 lbs / 215 g
• Battery: 340 mAh
• Usage Time: Up to 1 hour
• Max Noise Level: < 72 dB
• Interface: 3 button control
• Easy to clean; Use warm water and trusted toy cleaner (such as KinkLab's) or antibacterial soap
Shipping Notes:
This will be drop shipped directly from the manufacturer, separately from other items (please allow 3-5 days). Certain international orders are not available, please contact our Customer Service to inquire. Express shipping is not available for this item.