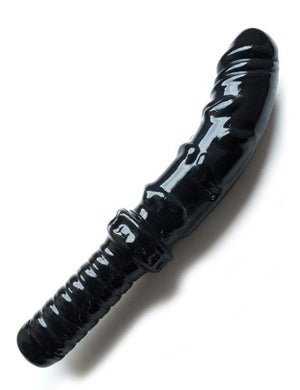 This rubber dildo is particularly exciting. Not only does it come packing with defined ridges and a pronounced curve to ensure that you hit all the right spots, it is also a unique blend of flexibility and a solid core.
Unlike most rubber dildos, these attributes allow for firmer stimulation. Another plus is the attached handle, which allows you or your partner complete control over the depth of penetration.
This toy is made in the UK and constructed of heavyweight molded latex with a foam core. It is compatible with water-based and silicone lubricants.
Product Details:
• Insertable Length: 8.6in (22cm)
• Dildo Width: 2.4in (6cm)
Safety, Care and Usage:
Clean with soap and warm water. Store away from dust, light, and heat. Do not use with oil-based lubricant.