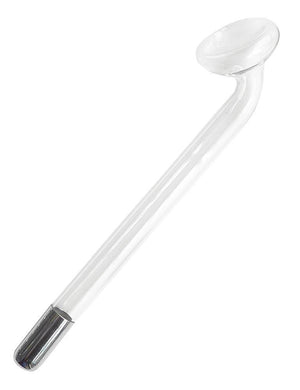 The Mushroom Electrode for the Kinklab Neon Wand® features a rounded flat head that emits a wide arc of electricity in a beautiful colored hue.
Explore the options of the many different body parts you can run this electrode across to make your partner squirm with delight.
Technical Specs
• 6in/15.2cm long
• 1.3in/3cm wide head
• Glass, with copper tube
• Compatible with Violent Wand models
Due to the sensitive nature of the gas and the electrodes the color may vary between batches and individual electrodes. Every measure is taken to make them as uniform as possible, but slight differences do occur. This does not in any way affect the quality or performance of any part of this device.
Safety, Care and Usage
The Mushroom Electrode should be stored carefully to avoid breaking. Before and after use clean the Mushroom Electrode with warm water and soap or disinfectant. Keep away from water when in use. As with all forms of play be sure to be fully informed on how to use the Neon Wand properly.