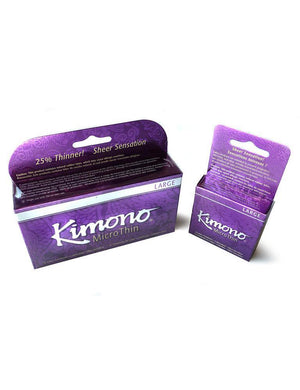 Kimono presents an extremely thin condom -- for the larger man. These super sheer, super soft condoms are 38% thinner than the standard condom and are microthin for a second-skin experience. Though lubricated without spermicide, Kimono Microthin condoms are specifically tested to help ensure the prevention of unwanted pregnancy and sexually transmitted diseases.
Length: 7.5" or 190.5mm
Width: 1.87" or 47.63mm
Diameter: 1.19" or 30.22mm
Circumference: 3.74" or 95mm
Lubrication: Silicone Based
Material: Latex
Special Features: Reservoir Tip, Thin
Kimono Microthin Large condoms are available in both 3 and 12-packs.
SKU: D872
SKU: D873