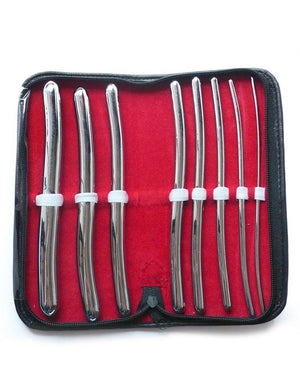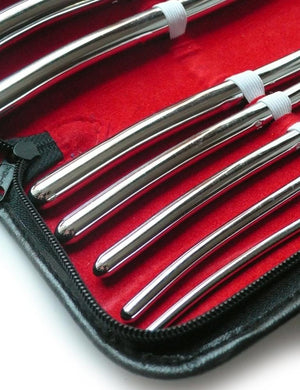 This item definitely qualifies as unusual, and a little scary by most people's standards. This set of curved, 8" probes is made of chrome-plated brass. Each probe in the series is slightly larger than the one before, and slightly larger on one end than on the other, for a total of 16 graduated sizes, from just over 1/16" in diameter (very small) to about 5/8".

The original intended medical use for these probes was to dilate the cervix, but they were also used to clear blockages in the urethra. For people with a fetish for bizarre old medical paraphernalia, these kits are a find.

The tubes are rounded at each end, and they come in a zippered black vinyl case with black felt lining on the inside. Sold as a novelty, not recommended for actual use except under the guidance of an expert.