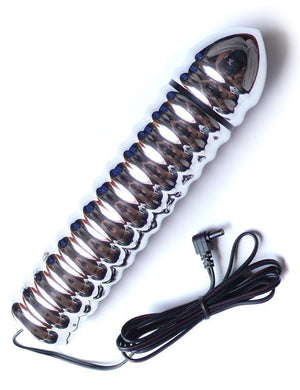 Mystim's Groovey George Rilldildo is made from medical-grade aluminum and can be used with the Tension Lover Kit. This massive dildo is the largest in the Mystim line. Its deeply ribbed surface just adds to the filling sensation the Groovey George delivers. Engage the electrical stimulation and your mind will be blown!
The Groovey George Rilldildo can be used anally or vaginally. Play with the temperature of the Groovey George by heating it up or placing it in the refrigerator beforehand. Either way, the Groovey George will leave a lasting impression.
Product Details:
• Length is 7.9in(20cm)
• Diameter is 1.8in(4.5cm)
• Weight 1.59lbs(25.39oz)
• Made of Hand polished medical aluminum
• 12 months manufacturers warranty
Safety, Care, and Usage:
Always clean your Mystim's Groovey George Rilldildo before and after use with warm water and soap. Pat dry.
Mystim accessories can only be used with the Mystim power units unless otherwise specified.