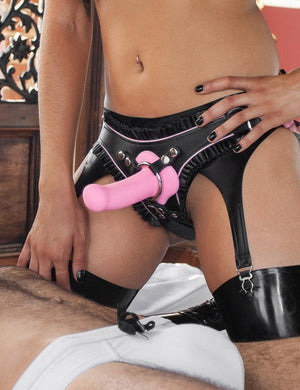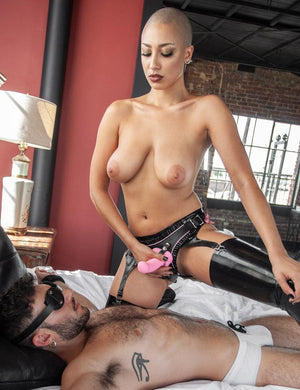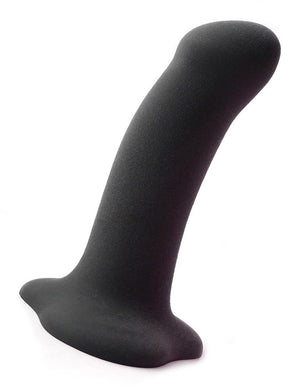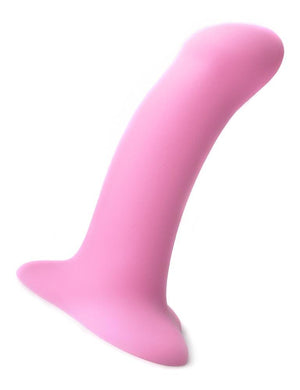 The Fun Factory Amor Dildo is a cute and sexy silicone dildo with a tactile surface that is fun to touch, and a specially designed curve shape on the cock tip. When inserted vaginally, this curvature will stimulate the G spot; When inserted anally it will stimulate and massage the prostate. This Fun Factory insertable dildo is constructed from 100 percent certified silicone that is both skin-friendly and hypoallergenic. This toy is durable, odorless, and easy to clean. Unlike sex toys made from some other materials, it is also quite flexible and gently bends similarly to a genuine male body part.
The Fun Factory Amor Dildo is just over 5 inches long and has an ergonomically formed base that is perfectly shaped for a dildo harness. It sits nicely and perfectly upright in the palm of your hand and is very functional and quite comfortable to hold.
The silicone Amor Dildo is available in your choice of black or pink. This sex toy also comes with two 4 ml packets of water-based, odorless lubricant gel that is latex safe.
Ideal for... vaginal masturbation, anal play, G spot stimulation, P spot stimulation, couple's play, gender expression, pegging, strap-on harnesses, vaginal penetration, anal penetration, lesbian sex, gender play, Dommes.
Safety, Care, and Usage: The Fun Factory Amor Dildo is made from 100 certified skin-friendly silicone, is hypoallergenic and is very easy to clean using just soap and warm water. This toy must be cleaned after use.
Product Details:
• Available in Black & Pink
• Diameter: 1.5 inch/3.8 cm
• Circumference: 4.75 inch/12.1 cm
• Insertable length: 5.1 inch/12.7 cm
SKU: E074 (Black)
SKU: E074P (Pink)