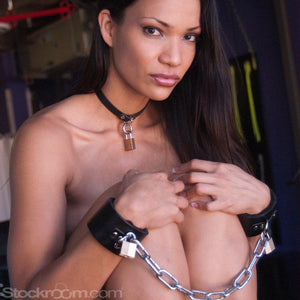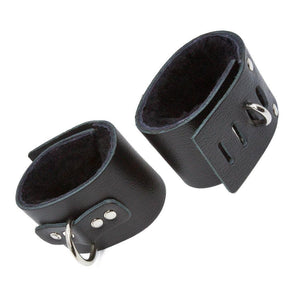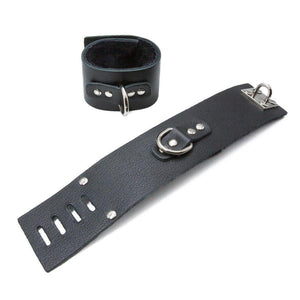 Take a perfectly good pair of black leather cuffs, add a sheepskin lining to them, and what do you have? An even more perfect pair of black leather cuffs! And that is what we have here. The genuine lamb's wool lining added to our basic wrist cuffs provides the extra padding needed for that extra bit of comfort, without sacrificing strength.
These cuffs have a lockable hasp, plus a D-ring in the center for a point of attachment. Sold in pairs. Locks not included.
Product Details:
• Small/Medium fits 5¾" to 7¾"
• Medium/Large fits 6" to 8½"
• Width of cuffs: 2"
Note: This item is produced in-house by our leather team in Los Angeles. In-house items display as "In Stock," and in a majority of cases we do have current stock on hand, but if not, the items will be made to order for you, and our customer service team will notify you promptly regarding any anticipated wait (usually just a few days). You will have the option to cancel if you do not wish to wait. If other items in your order are available immediately, the order may be sent in multiple parts.