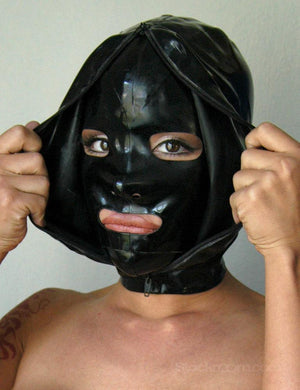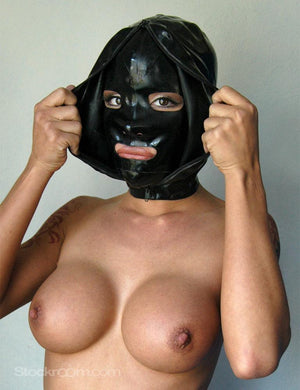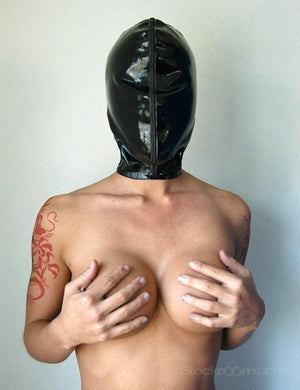 This design is one of the best fitting hoods available! It is expertly tailored to give a wonderful feeling of total encasement.
In addition to the first layer of 25 gauge latex that snugly wraps around the head and neck, with holes for the eyes, mouth and nostrils, this one has yet another layer which zips in the front to completely cover the face.
With a zipper head at both ends, the outer layer can be zipped from top to bottom, bottom to top, or both, offering many possibilities for breath control and heightened experiences of isolation and confinement.
The zipper allows enough air to get through for breathing. However, people with respiratory problems should not wear this hood. It also features a zipper down the back, making it easy to get on and off.
Please Note: The 25-gauge rubber hoods have a fair amount of stretch. The size of the hood you order should be near to your own measurements. For a nice tight fit, order a hood with measurements roughly half an inch smaller than your measurements.
Product Measurements:
X-Small: Around Forehead 19½" to 20½" - Around Neck 11½"
Small: Around Forehead 20½" to 23" - Around Neck 12"
Medium: Around Forehead 23" to 24½" - Around Neck 15"
Large: Around Forehead 24½" to 25½ - Around Neck 15¾"
X-Large: Around Forehead 26" to 27" - Around Neck 17½"
All Syren items are made to order, just for you, and will take 4-6 weeks turnaround time by our Los Angeles production team.
NOTE: The default color for this item is Black. For this item in a different color or size, call us at 1-800-755-TOYS or 1-213-484-3882 or email info@stockroom.com to place your custom order. Please note that a custom surcharge fee will apply.