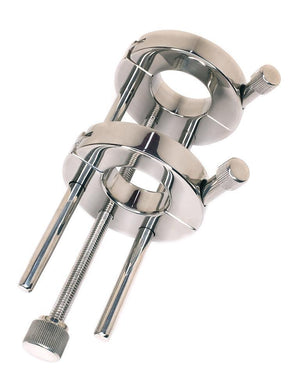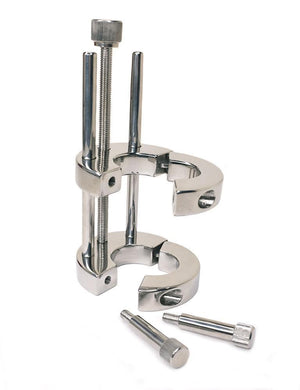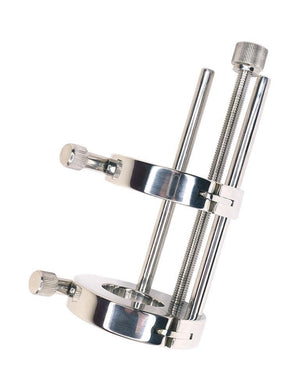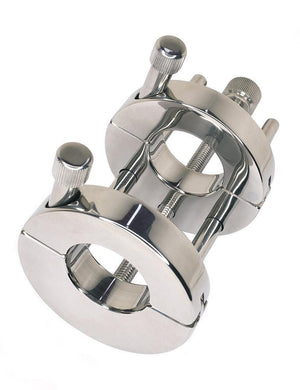 This ball stretcher is for those who've tried out all the other CBT gear and are ready to test their limits. The stainless steel construction makes it attractive to the eye and gives it an unmistakable heft — whether you're just holding it in your hand or wearing it.
Using the Ball Bruiser is easy, but requires a delicate touch so you don't take the person wearing it too far before they're ready. A single screw on the side of each ring fastens them securely around the scrotum, just above the testicles. Then use the larger screw to gradually spread the rings apart. Slow and steady is usually the best approach, partly for the sake of safety and partly so that both partners have time to savor the sensation. At their outer limit, the rings can open to 5 inches of separation. Even gently opening them a small distance creates an increase in sensation for play, though.
No matter how you choose to use it, this is one piece of CBT gear that's sturdy enough to stand up to lots of play in a lot of different configurations.
Ideal for...CBT, ball stretching.
Product Details:
• Inner Diameter of Rings: 1.25"
• Outer Diameter of Rings: 2.75"
• Total Length: 6.5"
• Maximum Spread: 5"
SKU: G599