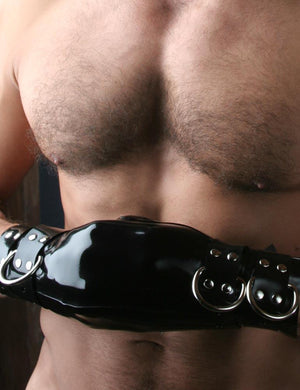 This Double Fist Binder keeps two fists, end-to-end, knuckles-to-knuckles, secure and controlled in one binder.
Made with 30-gauge black latex (that's about as thick as it gets), each end has two PVC wrist belts, two chrome-plated D-rings, and two chrome-plated steel lockable buckles.
A Stockroom original design. One size fits all.
All Syren items are made to order, just for you, and will take 4-6 weeks turnaround time by our Los Angeles production team.
NOTE: The default color for this item is Black. For this item in a different color or size, call us at 1-800-755-TOYS or 1-213-484-3882 or email info@stockroom.com to place your custom order. Please note that a custom surcharge fee will apply.