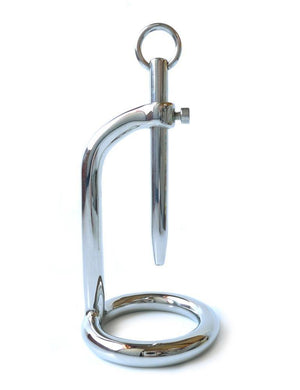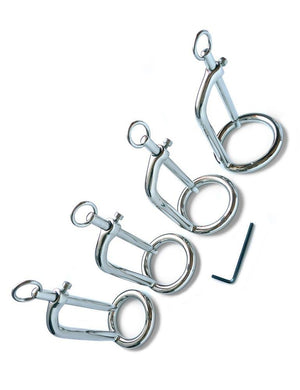 The Deep Driller is a stainless steel, dual-action penis plug and cock ring that has an adjustable length urethral insert that prevents ejaculation, with a sturdy round cock ring to hold it in place. This hardcore piece of hardware is a very clever way to penetrate the urethra while trapping the cock in place.
A handy hex key (or Allen wrench) is included to adjust the plug length (up to 3 inches). Cock torture and chastity enthusiasts will enjoy this device immensely. It's great for BDSM partners, slaves, Masters, or Mistresses… and for solo masochists to play with themselves as well.
The Deep Driller is constructed from top-quality, heavy, medical-grade, stainless steel that will not tarnish or stain because the metal does not oxidize. You can use this sex toy with any lubricant. Stainless Steel is very easy to clean, non-allergenic, and incorporates no other alloys.
Product Details
• Penis Plug total insertable length: 3in (14cm)
• Penis Plug Diameter 0.32in (0.8cm)

Small: Cock Ring Diameter: 1.5in (3.8cm)
Medium: Cock Ring Diameter: 1.75in (4.44cm) **Sold out**
Large: Cock Ring Diameter: 1.83in (4.64cm) **Sold out**
Extra Large: Cock Ring Diameter: 2.14in (5.43cm)
Safety, Care, and Usage: Like all urethral inserts, this device is not intended for long-term wear. The Deep Driller is very easy to clean using just antibacterial soap and warm water. This toy must be cleaned before and after every use. Always play safely.
SKU: E209S (Small)
SKU: E209M (Medium)
SKU: E209L (Large)
SKU: E209XL (X-Large)