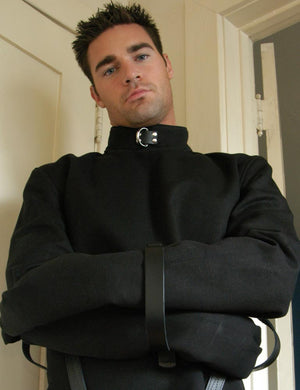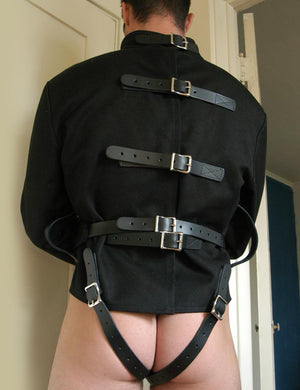 We are quite proud of this JT's Stockroom original!

We took a look at the traditional tan-leather-on-cream-canvas straitjacket and made a few design changes with our clientele's needs in mind: functionality with sex appeal! We think we succeeded. We hope you agree.

This restraint device is sure to make a statement - in public or behind closed doors! Black leather straps on black canvas with contrasting silver buckles make this an eye-catching addition to your bondage gear collection. With a more stylish cut than institutional straitjackets, it maintains its functionality while boasting a sexiness suitable for any fetish club.

While the canvas is heavy-duty, it is still slightly lighter-weight than what is traditionally used in institutional straitjackets, making our straitjacket comfortable without sacrificing the strength needed to hold up in hardcore bondage situations.

All in all, this is a serious, high-quality, fully functional straitjacket at a very reasonable price.

A Note About Cleaning - since the straps are made of leather, dry cleaning is recommended. However, due to the nature of this item, there may be some hesitation in taking it to your local dry cleaner. The leather straps are strong enough to stand up to a few hand washings, and even a few machine washings. Keep in mind, though, that washing with water may affect the appearance of the leather.

Small
Chest 35-37" - Waist 27-31"
Medium
Chest 38-40" - Waist 32-34"
Large
Chest 42-44" - Waist 35-38"
X-Large
Chest 45-48" - Waist 39-42"