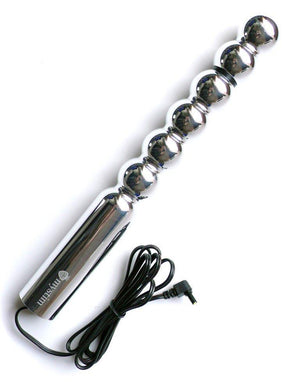 The Mystim Bal(l)zac Balldildo dildo is made from medical-grade aluminum and can be used with the Tension Lover Kit. The 6 ball construction creates an amazing sensation all on their own as they are inserted either anally or vaginally. Add the electrical current, and each ball that enters you combines to create a decadently intense orgasm.
The extra-long dildo feels smooth and pleasurable when it comes in contact with the skin. The sleek design and ascending ball construction are nothing short of spectacular for continuous pleasure.
Product Details:
• Length is 9.8in(25cm)
• Diameter is 1.2in(3.0cm)
• Weight 0.881lbs(14.10oz)
• Made of Hand polished medical aluminum
• 12 months manufacturers warranty
Safety, Care, and Usage:
Always clean your Bal(l)zac Balldildo before and after use with warm water and soap. Pat dry.
Mystim accessories can only be used with the Mystim power units unless otherwise specified.