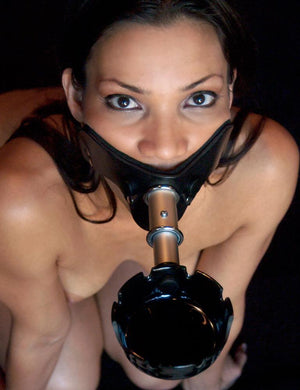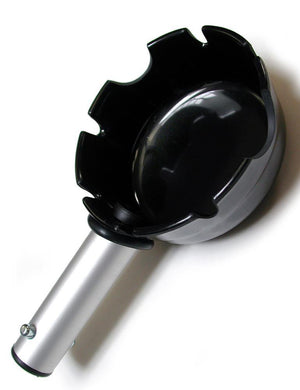 You can always have an ashtray within your reach with the handy Ash Tray Attachment for Scott Paul's Humiliator Gag. Deposit cigar ashes, gum wrappers, even incense cones at the flick of the wrist while your willing submissive trails closely behind with this gag attachment. Simply attach the ashtray to the gag, and enjoy hours of handy servitude.
The black plastic ashtray is attached to a sturdy, lightweight metal rod. The rod attaches to the metal tube in front of the gag. This is a traditional plastic ash tray seen in many club's and restaurants. This ash tray has been modified for use with cigar's both big and medium, as well as cigarettes. It's designed with a little longer stem to help keep smoke out of the eyes. The ashtray is 4" in diameter.
The gag and all other attachments are sold separately.
Scott Paul gear is très kinky, très chic, and built to last a lifetime. Made from aluminum tubing, stainless steel and other industrial components, this gear is well known for artistic styling, quality construction, and unique sensations to deliver a memorable experience. Every piece is designed and carefully hand assembled in Seattle, Washington.