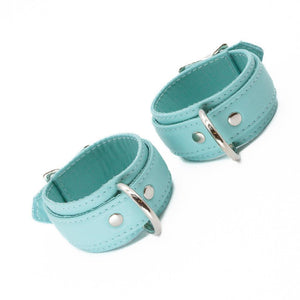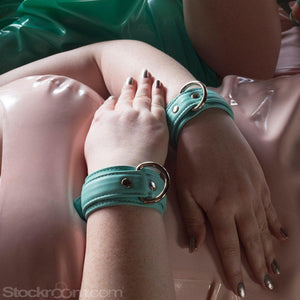 These cuffs will stop your sub's hands from wandering, but their mind — and yours — is sure to start roaming to new places. When the Stockroom and Zoë Ligon agreed on this delicious mint-green for our first kinky collaboration, we loved how it evokes the playful quality of kink. Blending a touch of the sweet and the smart, it reminded us of when we started to realize that sex had more flavors than just vanilla.
The garment leather is soft and supple to the touch while being absolutely unforgiving about any attempts to slip free. Your sub's skin won't chafe or scratch, but neither will they escape before you're ready.
These cuffs are part of our new limited-edition line with Spectrum Boutique's Zoë Ligon. Get the full matching set that includes a collar, leash, wrist cuffs, and ankle cuffs.
Product Details:
• Cuffs fit wrists 5½" - 8" around (14cm - 20.3cm)
• Width of cuffs: 1½" (3.8cm)
• Sold as a pair
• Material: Mint green garment leather with latigo leather straps, nickel-plated buckles and rivets.
Note: This item is produced in-house by our leather team in Los Angeles. In-house items display as "In Stock," and in a majority of cases we do have current stock on hand, but if not, the items will be made to order for you, and our customer service team will notify you promptly regarding any anticipated wait (usually just a few days). You will have the option to cancel if you do not wish to wait. If other items in your order are available immediately, the order may be sent in multiple parts.