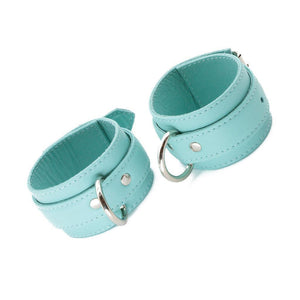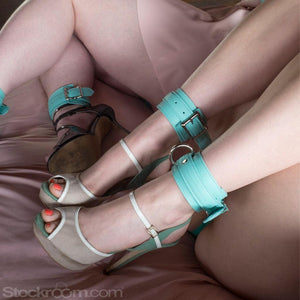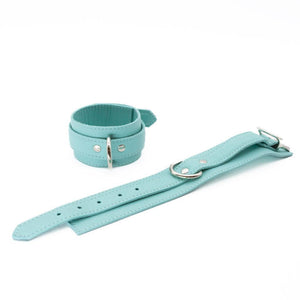 Cuff your sub's ankles securely and safely, while bringing a touch of color to the dungeon. In our new collaboration with sex educator Zoë Ligon, we've striven to make gear with the same bold and refreshing style that she's built her reputation with. The garment leather on these cuffs is soft, supple, and comfortable to wear, while easily strong enough to hold up to the best efforts of even the squirmiest sub.
But these are more than simply functional, well-made cuffs; the mint-green color brings a touch of the sharp and the sweet to your play session and will stand out in even the darkest dungeon. It has the same vivacious, bold femme quality that we've come to expect from everything Zoë does, and we're proud to present it with Zoë's name next to our own.
These cuffs are part of our new limited-edition line with Spectrum Boutique's Zoë Ligon. Get the full matching set that includes a collar, leash, wrist cuffs, and ankle cuffs.
Product Details:
• Small/Medium: Fits ankles 7" - 10.5" around (17.8cm - 26.7cm)
• Medium/Large: Fits ankles 8.5" - 12.5" around (21.6cm - 31.8cm)
• Width of cuffs: 2" (5.1cm)
• Sold as a pair
• Material: Mint green garment leather with latigo leather straps, nickel-plated buckles and rivets.
Note: This item is produced in-house by our leather team in Los Angeles. In-house items display as "In Stock," and in a majority of cases we do have current stock on hand, but if not, the items will be made to order for you, and our customer service team will notify you promptly regarding any anticipated wait (usually just a few days). You will have the option to cancel if you do not wish to wait. If other items in your order are available immediately, the order may be sent in multiple parts.