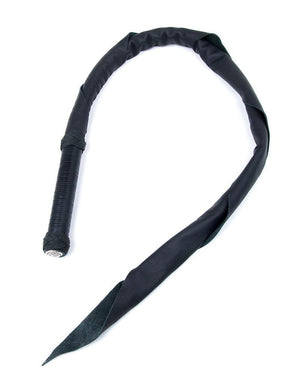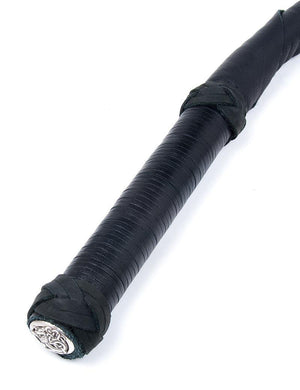 The devilish tip of a dragontail delivers a fiery sting with each strike, and this 4ft Black Dragon Tail Whip in sumptuous Italian upholstery leather delivers like no other. Made by Dragontailz, its unique design allows it to float through the air longer and land more accurately than most other dragontails and is handcrafted with 1 continuous piece of leather for optimum quality, ensuring no disassembling or falling apart, no matter how much use it gets.
Featuring their signature spiral handle design with an oak core, its exterior is wrapped with leather lace for a comfortable grip that's smooth with just enough texture to avoid slippage. This leather lacing is made from kangaroo skin which will not loosen or deteriorate over time, and will avoid showing wear in general. Its handle base also features the Dragontailz identifying silver "Dragon jewelry" as the perfect finishing touch on this luscious leather implement.
Dragontailz floggers are innovative and carefully created, made to last with exceptional quality, and even comes with a limited lifetime warranty by the manufacturer. Please note that there may be slight color variance from the flogger or tail whip shown here.
Please play safely. Allow ample time to practice with your whip to learn and control its movements, and never throw underhanded, which hinders control and accuracy.
Safety, Care, and Usage:
Wipe clean after each use and let dry thoroughly before storing. Store your flogger in a cool, dry place. The best and safest way to treat a Dragontailz leather product is by the nourishing oils produced by handling and using the product.
SHIPPING NOTES:
This will be drop shipped directly from the manufacturer, separately from other items. Please allow 7-10 days for this item to be delivered. The price of the item includes FREE SHIPPING within the continental US. Additional shipping fees may apply otherwise, and you may be contacted with a shipping surcharge quote. Express shipping is not available for this item.
SKU: F415