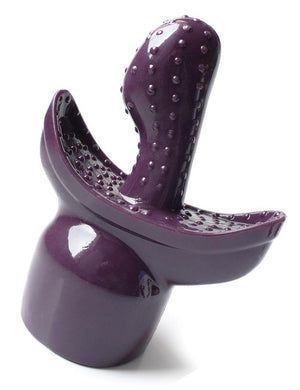 Satisfy your deepest sensual spots with the VibeRite Double Agent™ Attachment for the VibeRite® Personal Massager. Perfect for exploring the depths of your untapped pleasure zones, this massager maintains strong contact with the perineum or clitoris the whole ride through. Let this deliciously textured massager take you to unimagined heights of satisfaction.
This item is compatible with the VibeRite® Personal Massager.
Product Details:
• Insertable Length: 3.25in (8.3cm)
• Insertable Width: 1.5in (3.8cm)
• Width at Base: 5in (12.7cm)
• Compatible with the Hitachi Magic Wand
Safety, Care, and Usage:
Made of Thermoplastic Rubber (TPR), a phthalate-free synthetic polymer blend compatible with most silicone and water-based lubricants. Wash with warm water and mild soap, and allow to air dry. This product cannot be sterilized and should not be shared between partners.