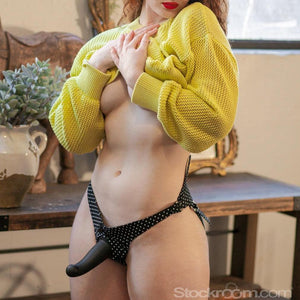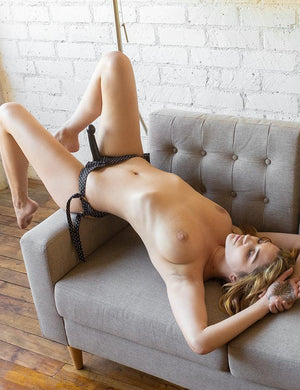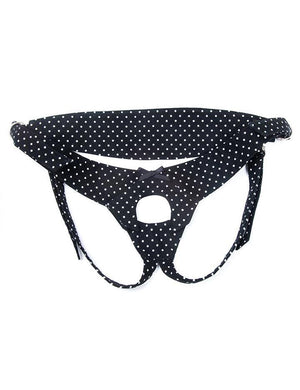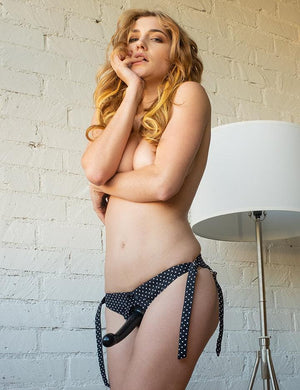 Who says strap-on harnesses can't be cute and stylish on their own?
The Veronica Harness by Velvet Nest has a fun retro flair, sitting low on the hips, flattering your curves with adjustable D-rings for the perfect fit. Delightfully discreet and exceedingly comfortable, you can even wear it under your clothes so you'll be ready for action at any moment: simply insert your dildo through the front and secure it in the unique Velcro docking system, no O-ring needed!
This feminine, sexy harness by Velvet Nest is exquisitely handmade in 100% cotton, making it comfortable, vegan-friendly, and machine washable. A must-have for all fashionable femme tops.
All harnesses are proudly designed and manufactured here in the USA.
Ideal for… strapon sex, pegging, fem domme, submissives.
Product Details:
• Made in the USA
• 100% Cotton
• Black with white polka dots
• Vegan
• Machine washable
• Velcro docking system fits dildos between 1.25in - 2in (3.18cm - 5.08cm) diameter
• Adjusts 34'' - 48''
Note: This item is produced in-house by our leather team in Los Angeles. In-house items display as "In Stock," and in a majority of cases we do have current stock on hand, but if not, the items will be made to order for you, and our customer service team will notify you promptly regarding any anticipated wait (usually just a few days). You will have the option to cancel if you do not wish to wait. If other items in your order are available immediately, the order may be sent in multiple parts.